---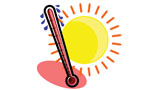 The Meteorology Departmen yesterday warned that the prevailing dry weather could trigger a water scarcity as adequate rains have not been recorded in months.
A met Department spokesperson responding to a recent report that water levels of the Kelani river was going down, said the absence of inter monsoonal rains, and the change in the wind pattern had been some of the main causes for the dry weather while global warming could have had an indirect impact.
The Department confirmed that the temperature in Vavuniya, Jaffna, and Anuradhapura districts had increased by more than 4 degrees Centigrade than the usual figure while the temperature in other parts of the country had increased by 2C degrees.
The highest temperature of 37/9C degrees was recorded from Kurunegala while the temperature in Anuradhapura and Vavuniya also exceeded 37C. The temperature in Ratnapura, and Moneragala exceeded 36 degrees while the temperature in the rest of the island was more than 30C .
The Department predicted dry weather during the coming days as well.
However Director General Management of Water Projects Ranjith Perera said the supply of water in Colombo and greater Colombo had not been reduced. He said normal water supply could continue without any interruption as of now. (Yohan Perera)
Video by Nadeeka Dayabandara