---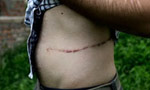 A drug addict who sold his kidney for Rs.500,000 and used the money to finance his heroin addiction was taken into custody by the Galle police after he was found in possession of a packet heroin weighing 100mg during a raid at Dangedara. Investigations revealed that he had gone to Colombo after selling his kidney and spent Rs.120,000 to buy heroin and returned to Galle after all his money was exhausted.
The 36-year-old suspect is a resident of Devata in Galle and a bachelor making his livelihood as a manual worker who is known to spend all his earnings to satisfy his urge for heroin. Recently when he came to know that a resident who was suffering from an acute kidney ailment had been recommended by the doctors to undergo an immediate kidney transplant, he visited the patient and agreed to donate his kidney for Rs.500,000. However the patient had died two weeks after the kidney transplant while the donor wasted the money he was paid.
The suspect was produced before the Galle Magistrate yesterday on charges of possessing 100mg of heroin.
The arrest was made after Anti Vice Squad OIC Sub Inspector M. Nimal, Sergeant 58987 Hasantha, PCs 33645 Ranjith, 4500 Pushpakumara 14353 Madanayake, and 80645 Asiri conducted the investigations on the instructions of HQI Udaya Kumara. (D.G. Sugathapala)