---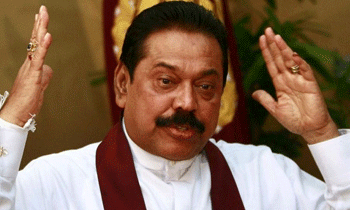 Former president Mahinda Rajapaksa today urged Sri Lanka Freedom Party (SLFP) MPs to vote against the Inland Revenue Bill when it was taken up in Parliament on Friday.
In a statement he said, "Under Clause 5(2)(f) of the Bill, the employer's contribution to a provident fund will be considered a part of an employee's taxable income. This will make EPF payments a burden to employees. Under Item 8 of its First Schedule, the tax on income generated by provident funds through their investments will increase from the present 10% to 14% thus reducing the income available to fund members.
"The tax exemption granted to all places of worship has been dropped in the proposed law and Item 6 of the First Schedule has fixed the tax for such charitable institutions at 14%. According to the Third and Fifth Schedules, places of worship and charitable institutions will be eligible for a tax concession only if the money is used to provide care to children, the elderly or the disabled. The incomes of some places of worship are supervised by the government and such institutions will be taxed to the maximum whereas other places of worship not supervised by the government will be able to escape the tax net. Such discriminatory practices will give rise to social tensions.
"Furthermore, the existing 2006 Inland Revenue Act provides concessions through Chapter III on tax exemptions to various fields deemed worthy of preservation such as local handicraft industries, film and drama producers etc. This Chapter also has concessions for various economic activities such as new undertakings in pharmaceuticals, renewable energy, production for import substitution etc. There are over 200 such exemptions in the present law. All those concessions are to be removed by the proposed new law.
"Independent professionals are at present taxed at flat rates for incomes above the tax free threshold of Rs. 500,000, at 12% for up to Rs. 25 million a year, going up to 16% for anything above 35 million. Under the proposed law, professionals will be taxed at the rates applicable to individuals - tax free for the first Rs. 600,000 and for each succeeding Rs. 600,000 at rates starting at 4% and increasing gradually to 8%, 12%, 16%,20% with the maximum rate of 24% applying to any income above Rs. three million a year. The income tax for professionals had been kept low so as to encourage them to remain in Sri Lanka without moving overseas.
Under Item 10(b)(iii) of Schedule One, rental income will be subject to a 10% withholding tax. This will cause immense hardship to middle class people trying to supplement their income by renting out properties.
"Under the First Schedule of the Bill, the maximum rate of tax applicable to individuals will be 24%. Though the maximum rate applicable to companies is 28%, in certain specified fields such as education, agriculture, tourism, IT based services and exports, the applicable rate will be 14% regardless of the size of the enterprise. This will result in anomalous situations where a large company providing educational services may be taxed at 14% while a teacher who gives private tuition in his home will be taxed at 24%; a major agricultural company will be taxed at 14% while an enterprising youth engaging in market oriented agriculture will be taxed at 24%. The tax on the small and medium sector is also to go up from the present 12%, to 14% under the new law."