---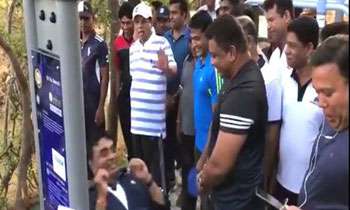 President Maithripala Sirisena while opening a jogging track in Polonnaruwa threw a challenge in a lighter vein at IGP Pujith Jayasundara to do 100 crunches on the track after which the IGP took up the challenge.
The President was later heard asking him to stop saying "enough, enough, otherwise I will have to look for another IGP".
The conversation as follows:
IGP - How many crunches do I have to do sir"
President - A Hundred, a Hundred (People Laughing). The IGP is not an ordinary person.
IGP calls to an officer to count the number of crunches.
President: Police constables should do ten crunches, an IP should do 15 crunches, one ASP should do 20 crunches, 30 crunches for an SSP.
IGP : Its ten crunches. (Again the IGP wants a police officer to count) Keep counting',
President: A DIG should do 50 crunches. Senior DIG should do 75 crunches and the IGP, 100 crunches. (People laughing)
President: It is enough now, otherwise I will have to look for another IGP.