---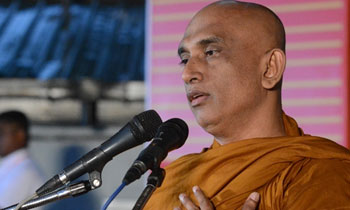 Ven. Athuraliye Rathana Thera said today that security forces personnel should not be imprisoned in connection with war crimes for the sake of regaining the GSP+ facility from the EU.
After remaining politically silent for some time he told a media briefing that the government had mentioned about a hybrid court as one of the conditions to regain this trade concession.
"Do we have to imprison military personnel who defeated terrorism to regain the GSP. Don't we have any self-confidence? However, today we have re-gained this facility sans a hybrid court," the Thera said.
He criticized the government for co-sponsoring the UNHRC Resolution on Sri Lanka to probe allegations of human rights violation during the final phase of the armed conflict.
"The UN resolution states that war crimes had taken place and that we need to probe the allegations in a transparent manner. What we said about these allegations is not what we should have said. We said a war took place and it was bad and therefore, we should follow the guidelines set by foreign countries. Is that what we should do?" the Thera asked.
He said he too knew envoys from the US and India and that there was no unusual pressure from them.
The monk said all wars were ruthless and that terrorism had to be defeated.
"Sri Lanka should inform the international community that we are prepared for National Reconciliation today. We are not curtailing the rights of any citizen and as a democratic and civilised country we will always ensure the human rights of all people," he said. (Lahiru Pothmulla)
Video by Buddhi