---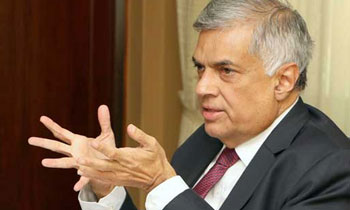 The government has informed the Commissioner of Elections not to hold polls till January next year, Prime Minister Ranil Wickremesinghe said today.
Mr. Wickremesinghe revealed this at a meeting he had with the Colombo District Public servants at Temple Trees last morning to educate them on the government's policies.
"We have informed the Elections Commission not to hold elections this year so that MPs could concentrate on the 2018 Budget. Accordingly the polls will be held in January after Parliament completes its important business with regard to the budget," the Prime Minister said.
The Prime Minister who elaborated on the budget 2018 said it will focus more on women. "We will include several programmes for women in the budget," he said.
Mr. Wickremesinghe said the government has decided to appoint a woman development assistant for each divisional and provincial secretariat office shortly. "Women account for 52 per cent of the country's population while 75 per cent of those who work in the divisional secretariat and provincial secretariat offices are women. Therefore it is appropriate to give women a chance to play some role in the state machinery. We hope that men will not file human rights petitions," the Prime Minister said.
Further he said the county would see more women representation in local government bodies when the rule which makes the political parties bound to field a minimum of 25 per cent women candidates. Further he said the country will also see a new electoral system based on 60 per cent first past the post system and 40 per cent proportional representation being implemented for the first time. "This system will be introduced to Parliament as well," he added.
Home Affairs Minister Vajira Abeywardene said the best public servants to implement the present government's policy are the ones who were appointed by the previous regime. He said they were the best as they have successfully carried out polices of the previous regime.
Deputy Minister of Home Affairs Nimal Lansa said the public servants have to play a great role in carrying out government policies in the grass root levels.(Yohan Perera)