---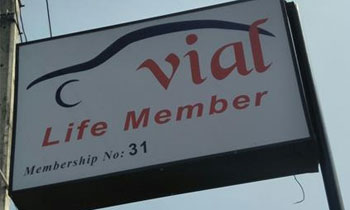 Vehicle Importers Association Lanka (VIAL) today said that there was a racket of cheating customers, claiming that they could import provide vehicles less than the market prices from their showrooms.
Addressing the media VIAL President Indika Sampath Merenchige said fraudsters collect cash advances for vehicles from public and when they unable to deliver for those low-prices carry out sinister campaigns against various trading associations.
Therefore, the Association had decided to introduce a display board at every showroom of members of VIAL, indicating their symbol and the membership number, where customers could clearly identify authentic car sale showrooms endorsed by its organization.
The VIAL had decided to resort to this measure taking into consideration the complaints it received with regard to frauds the general public faced at the point of vehicle sales, Mr Merenchige said.
"This will enable customers to buy their vehicle without falling prey to fraudsters who masquerade as car sale agents. Only permanent members of VIAL with a proven track record will be given permission to carry the billboard in front of their showrooms," Mr Merenchige said.
The customers could also determine the authenticity of vehicle showrooms who had not been enlisted yet for the billboard to find out for sure whether they were VIAL members by checking their credentials, he said.
"Many fraudulent vehicle sellers claim that the Wagon R vehicles which cost Rs. 3.4 million could be bought for Rs 3 million through reputed car import organization. Those sellers used to rob people by placing advertisements on websites and in newspapers saying that they can provide vehicles for less than the market price. Many people have lost millions of their money by falling prey to such fraudsters," he said.
As the first phase of the project, VIAL had issued display boards for the first 25 members who applied for it and on the demand, the other members too will be issued the display board.
The VIAL plans to intervene in the big way to prevent such frauds at the time of vehicle sales. The VIAL has also decided to intervene in an improbable event of any of its members indulging in any deceitful practice and would not hesitate to remove such a member form its association, Mr Merenchige added. (Chaturanga Samarawickrama)