---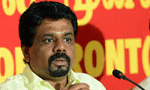 The Chief Opposition Whip and Leader of the Janatha Vimukthi Peramuna (JVP) Anura Kumara Dissanayake yesterday asked Thilanga Sumathipala, the Deputy Speaker who also happens to be the President Sri Lanka Cricket (SLC) not to use his parliamentary post to defend employees of SLC.
The Chief Opposition whip said this when Sumathipala was trying to respond to allegations made by Minister Arjuna Ranatunga regarding some employees at SLC.
"We have an issue with the way the deputy speaker is using the chair to answer the allegations," Mr. Dissanayake said. "He should respond to these allegations after sitting in the seat allocated for him among the MPs."
Mr. Ranatunga also objected to the Deputy Speaker when he tried to respond to these allegations.
Minister Ranatunga questioned the appointment of Vrai Raymond as a media advisor of SLC.
"This person was giving advice to take legal action against me during the SLC elections," he said.
Raymond was appointed as Manager - Corporate Communications of SLC in March this year, despite SLC already employing a Media Manager.
He questioned the appointment of Godfrey Dabare as the legal advisor and the appointment of Priyantha Algama as an international cricket advisor.
"It would have been better to have appointed either Mahela Jayawardene or Kumar Sangakkara," Ranatunga said, referring to the latter post.
Ranatunga, a former Sri Lankan cricket captain, also questioned the necessity of Cricket Aid, a charity arm of SLC.
"There is no need for Cricket Aid, as this charity work can be carried out by SLC directly," he said.
Deputy Speaker Sumathipala, who responded said Cricket Aid was established just after the tsunami in 2004 .
"We had to have an institution to deal with the aid we were receiving from abroad," he said.
He said a sum of US dollars 750,000 was collected from a benefit cricket match during the tsunami period while a sum of Rs 10 million was collected from a dinner held in UK recently.
"We will convert Cricket Aid into a legally incorporated institution shortly by bringing it under Registration of Companies Act," he said.
Minister of Sports Dayasiri Jayasekara who intervened when the Deputy Speaker attempted to respond to Ranatunga's query about SLC employees, said, "Mr. Sumathipala should respond to allegations, as Minister Ranatunga holds media briefings saying he is trying to save sports."
"I thought I'll leave it to the deputy speaker to respond to the allegations on SLC so that matters could be resolved in Parliament itself. I'm going to start an initiative called 'Save the Port'," Jayasekera said on a lighter vein. (Yohan Perera)