---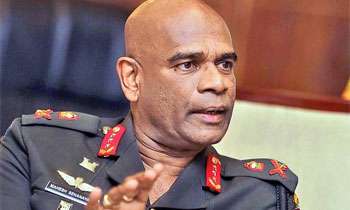 Responding allegations of retired Army officers, that they were not contended with the battle alertness of the Army at present, Army Commander Mahesh Senanayake said that no one could review the Army's strength after having gone on retirement years ago,
"They have no moral right to do so," he said.
He said the Sri Lanka Army, with the dedicated objective of strengthening it further when necessary had consulted former Commanders and retired Officers with battle-hardened experience with good faith and the Army would continue such practices unfailingly in future.
In a media communiqué about current security preparedness Lieutenant General Senanayake said
"Relocation or shifting of camps that remained at the time of the culmination of the war, and also afterwards does not in any way amount to any lapse, and such alterations are done, assessing security developments at ground level particularly on the recommendations of respective field commanders.
"It is pertinent to note here that some former Army Commanders also have effected such changes in the past. Such courses of action, if necessary would continue in future also, assessing the security needs of the country," he said.
The Commander said battalions with lesser number of troops had been reinforced under the Army's right-sizing programme "having taken all necessary measures to place all Battalions and Units on alert" to face any eventualities in an organized manner.
"Some individual who have been identified themselves as 'War-Analysts' had defined this procedure as s closure of camps",Lieutenant General Senanayake said.
"By this time, all units under the Security Force Headquarters-Jaffna have been reorganized under the right-sizing programme, and the Sri Lanka Army challenges those so-called 'War analysts' to publicly name what those operationally important camps, said to have been closed down, if any." he said.
"Some opportunists are trying to criticize the national security for personal and political motives.
He requested the public to ignore those opportunists' claims and to repose the confidence in the Army, which has defended the country in the past.
"The Sri Lanka Army will take all measures to prevent any resurgence of war in future," he said.