---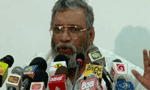 Elections Commission Chairman Mahinda Deshapriya is reported to have emphasised at a meeting with Local Government and Provincial Councils Minister Faiszer Mustapha that the local authorities' election should not be delayed any further.
The Minister held talks with Mr. Deshapriya and other key officials last Thursday.
The terms of all 335 local bodies lapsed at the moment. Therefore, the election is overdue.
However, the Elections Commission is facing a practical difficulty in taking action to conduct elections as the electoral wards, proposed under the new law, have not yet been announced in a Gazette notification.
A committee headed by Senior Public Servant Asoka Peiris has been appointed to make recommendations to iron out shortcomings in the creation of wards in the past.
The committee is expected to submit its report next month.
Mr. Deshapriya is also reported to have stressed that the report should be submitted as promised.
He has noted the Commission was subjected to unnecessary public criticism because of delay.
It is learnt that he wanted the authorities concerned to take steps for conducting the election by early next year at least.(Kelum Bandara)