---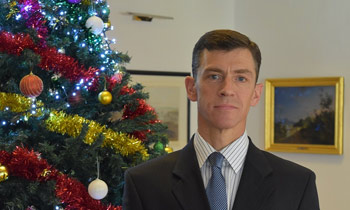 The Government should take more steps, similar to the ones it took in the budget, to make Sri Lanka an easier place investors to do business and win their confidence, the British High Commissioner said today.
In his Christmas and New Year message to Sri Lankans, High Commissioner James Dauris also said he was encouraged that there would be local government elections in February, next year.
"Lots more women than before are going to be standing – something for us all to welcome. It is going to be important for the Government to push forward with steps that will move on its Geneva commitments quickly," he said.
The High Commissioner said they shared the welcome given by Sri Lankans to all the steps taken over the year to help achieve and advance reconciliation between communities.
"It is to the government's credit that the Right to Information Act came into force, that Sri Lanka again committed itself to advancing reconciliation and accountability at the United Nations, that President Maithripala Sirisena approved the Act establishing the Office of Missing Persons, that it deposited its accession to the Optional Protocol to the Convention Against Torture and that it signed the Ottawa Convention," he said.
Meanwhile, he said UK's relationship with Sri Lanka has continued to flourish over the past 12 months.
"The relationship that Sri Lanka and the UK enjoy is long-standing, broad and enduring. We can see this reflected in what we've been doing in 2017. Take business for example. British Companies have been winning new business, investing in Sri Lanka and creating new jobs for Sri Lankans," High Commissioner Dauris said.
He said regardless of our faith, whether we are Christian or Buddhist, Hindu or Muslim, each year Christmas brings us a message based on values that most of us share: a message of peace, joy and new beginnings, of tolerance, community and forgiveness.
"I'm sure you will share my hope that we will see these values prosper in the year ahead, and our communities grow stronger and happier for it. I wish you a joyful Christmas, and success in the coming year," he said.