---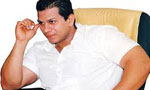 A District Judge has gone to the Welikada Prisons hospital on Thursday (10) night to visit former Parliamentarian Duminda Silva who was convicted in the Bharatha Lakshman Premachandra murder case and spent some time before leaving, a prison spokesman said.
Two days after the conviction Duminda Silva was admitted to the prison hospital after he caught fever and there was also an arrangement to send him to the Sri Jayawardenapura Hospital on the recommendation of doctors, he said.
It is also said this judge had come to the prison on the day Duminda Silva was convicted and her entry to the prison had also been registered in the documents at the gate of the Welikada Prison.
When inquired about the matter Prisons Commissioner General Nishan Danasinghe affirmed the arrival of a judge on Thursday to see convicted Duminda Silva at the prisons hospital.
The Commissioner General also said he had directed the chief medical officer of the prisons hospital to submit a report explaining the transfer of Duminda Silva to the National Hospital recommended on the ground of a sudden illness instead of recommending the Sri Jayawardenapura Hospital. (Jayantha Samarakone)