---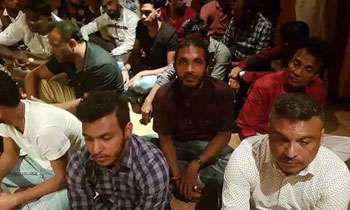 There is a diplomatic passport holder, a police officer and a prisons officer among the 24 persons arrested along with drug lord Makandure Madush while celebrating a birthday party held in a luxury hotel in Dubai.
Those arrested during a raid conducted by the Dubai Police, now being detained at the Ameer Prison in Dubai had their blood samples tested for signs that they had consumed drugs at the time of their arrest.
The celebration centred around Makandure Madush's son who according to sources was celebrating his first birthday. He is the Sri Lankan drug lord's son by his second wife. Among the Sri Lankans arrested during the raid were popular singer Amal Perera, youngest son Nadimal Perera, a popular singer in his own right as well as teledrama actor Ryan Van Rooyen.
Meanwhile, underworld leader Angoda Lokka, who was thought to have been outside the hotel at the time of the raid by police, had managed to flee, police said.
Under the close supervision of IGP Pujith Jayasundara, STF Commander and Senior DIG Criminal Intelligence Service and Organized Crime M. R. Latheef was conducting further investigations. (Srinath Prasanna Jayasuriya)