---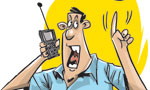 The Ceylon Electricity Board had activated a new hotline (1987) in response to charges that the CEB emergency lines were out of order during a crisis, the Ceylon Electricity Board said yesterday.
Residents of Dehiwela and Mount Lavinia were doubly inconvenienced this week when calls to 0114418418, the number for Interruptions to Electricity Supply, went unanswered.
The calls, which were answered by a voice machine directed callers to check their trip switches and pay the electricity bills to avoid any inconvenience before disconnecting.
When the Daily Mirror contacted the CEB Western Province South One, Deputy General Manager Rohan Seneviratne denied possibilities of phone calls being unanswered.
"There are three phone operators working on 14 lines and it was impossible to answer all calls that are made to us," he said.
"But many of the callers hold on until our representative is free to come to their assistance or we call them back," he said.
However, Seneviratne said he would look into the matter and confirm there were no technical errors.
When contacted, CEB Chairman Anura Wijeypala said a number of public servants, who worked the night shift were not present at their posts or simply did not do their work properly.
"We don't know what happened here but we have introduced a new hotline (1987) to ensure customers are able to contact us at any time," he said. (Yohan Perera)