---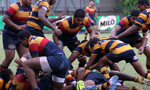 A special committee appointed by the Ministry of Education at a meeting held at the Ministry auditorium took the decision to slap bans on three rugby playing schools Dharmaraja, Trinity and Carey which they say has brought disrepute to the sport of rugby due to their behavior on and off the field.
Dharmaraja was slapped with a ban of nine months effective from July 1 for their misbehavior in the match against St Joseph's played at the Bogambara Stadium two weeks ago which the Josephians was on the verge of winning the game.
The ban Trinity was for six months for an incident which took place in their second leg 72nd Bradby Shield encounter against Royal played at Pallekele while Carey too was imposed with a ban of six months due to their unruly behavior in the match against Siri Piyaratana MMV Padukka in a lower division match played in the latter part of May.
Apart from the nine month ban Dharmaraja will be on two years of interim suspension and a incident within this stipulated period would see them being dealt with much severe punishment.
The committee also further took stern action against Dharmaraja coach Radika Hettiarachchi, the physio therapist and assistant coach. Radika has been banned from coaching and will not be allowed to coach any school team until further notice while the physio has been banned for one year and the assistant coach has been banned for six months due to their involvement with the incident at the Bogambara Stadium while the master in charge of Dharmaraja has been given a stern warning.
Added to the nine month ban seven Dharmaraja players M.G. Bandara, C.D.B. Wijesnghe, E.M.O.P. Ekanayake, D.M.C. Gyashan, D.S.T.R. Ratnayake, K.S.B. Dissanayake and C.S.S. Abaragama have been banned from representing their school for a period of one year.
Beside the six month ban on Carey they too will be under interim suspension for two years and all the matches played by Carey will be deemed as null and void while Carey coach D. Nimal has been slapped with a six month ban.
The decisions were taken on the instruction of Viraj Kariyawasam the Minister of Education citing the aim is to instill discipline in the sports field which has been in down trend since the recent past..(M. Shamil Amit)