---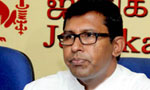 The Jathika Hela Urumaya (JHU) said today that the Development (Special Provisions) Bill should be brought in with necessary amendments despite petty political gains as it was crucial to establish a powerful institute in encouraging and retaining foreign investors in the country.
JHU national organizer Nishantha Sri Warnasinghe said they did not reject the Bill and added that there was no debate on the requirement of such a bill.
"We have the need of such a Bill today. There is an economic crisis in the country today. The economic growth rate has decreased to 4%. The export revenue has decreased to 10% in relation to gross domestic product (GDP). So we need a fully fledged institute to expedite an economic progress in the country. We do not have a particular institute to encourage foreign investments and retain them in the country," said.
He said important bills such as this should not be presented without agreement and approval of all stakeholders.
"This bill should have been discussed in the cabinet and necessary amendments made before presenting it in the provincial councils if there were controversial matters. The government should have brought in the bill with necessary amendments when it was rejected in one provincial council. Even the Prime Minister admitted that there were shortcomings in the bill. So why was it presented without amending it," he said.
Mr. Warnasinghe said there should be fully-fledged establishment where people could get everything done under one roof but it should not be to create super ministers.
"What we want is not to create super ministers but to create a super country by bringing in foreign investors by providing them with necessary facilities. We had super ministers like Basil Rajapaksa during the previous regime, he said.(Ajith Siriwardana)