---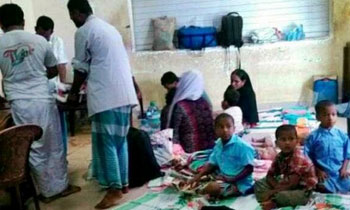 The group of 31 Myanmar Nationals, who were detained at a house of UNHRC in Mount Lavinia, had been taken into the Police custody for their protection, Police Spokesman SP Ruwan Gunasekara said.
He said the refugees who were apprehended by the Sri Lanka Coast Guard officials in April this year were initially detained at the Mirihana Detention Centre.
Later, they were handed over to the UNHRC and the UNHRC officials had detained them at a house in Mount Lavinia.
SP Gunasekara said the refugees arrived from Myanmar were taken into the custody for their protection after a group of monks protested against their stay in the country.
Sri Lanka Coast Guard craft on routine patrol in the Northern waters apprehended the fishing boat transferring the 30 refugees including 16 children, 7 women and 7 men in Sri Lankan waters, off the coast of Kankesanthurai on April 30.(Darshana Sanjeewa)