---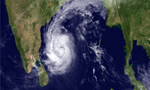 The Meteorology Department warned that several parts of the country will experience heavy rains due to the development of a depression 1,400 km Northeast of Sri Lanka at the center of the Bay of Bengal.
Even though, Sri Lanka was not directly affected by the developing weather heavy showers between 100 -150 mm could be expected in the South-Western part of the country, the Central hills and the Northern Province.
Thundershowers would occur at time in the Northern, Western, Central, Sabaragamuwa and North-Western provinces and in the Galle and Matara districts, the Department said.
Naval and fishing communities are requested to be vigilant in this regard.