---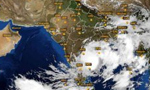 The deep depression in the Central Bay of Bengal has turned into a cyclonic storm known as 'Kyant', the Meteorology Department said today.
The Department said 'Kyant' is located about 1200 km northeast of Sri Lanka at the moment and has no direct effect on Sri Lanka. However rains can be expected across the country in the evening except in the Northern Province.
Misty conditions can be expected in some areas in the Western, Sabaragamuwa, Central and Southern provinces in the morning.
The Department also warned of temporary strong winds during thundershowers and requested the public to take adequate precautions to minimize damages caused by lightning.