---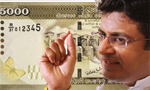 The Pivithuru Hela Urumaya (PHU) today urged the government to follow the example set by the Indian government to destroy the black market by demonetizing the Rs. 5,000 note.

Speaking to the media, PHU Leader MP Udaya Gammampila said demonetization would reveal the identities of those who have black money in the country. "We can see if it is with the Rajapakse's or the Central Bank thieves," he said.
He said the government had appointed a committee to find stolen state assets. However, despite spending large amounts of public funds travelling the world the government has not been able to find even a rupee of the funds that were stolen.
Sri Lanka had demonetized the Rs. 100 note in 1973, when Prof. N. M Perera was the Finance Minister. "This brought in a lot of funds to the reserves," the MP said.
Video by Buddhi