---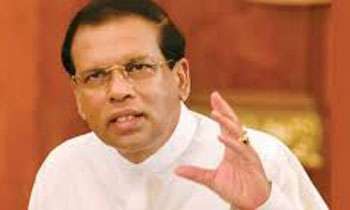 President Maithripala Sirisena said that delays at the Prime Minister's office and the Ministry of Finance had caused the holdup in appointing Chairmen and Boards of Directors to state Corporations and Boards.
The President stressed that there was no delay on the part of his office and said that the names of the appointees to Corporations and Boards would be approved once the relevant Ministers send the names to the President's Office.
He said, it has been reported that due to the non-appointment of Chairmen and Boards of Directors to State Banks, their activities were adversely affected and those who are responsible for such lapse are the Prime Minister's Office and the Minister of Finance.
The reason for such a delay is the conflict between the Premier and the Finance Minister, according to him. In spite several weeks elapsing after appointing ministers, the reason for the delay in appointing corporation chairmen is an internal conflict in the government. (Ajantha Kumara Agalakada)