---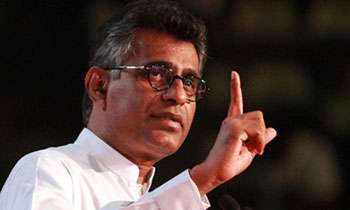 It was sufficient to describe Sri Lanka as the Republic of Sri Lanka instead of the Democratic Socialist Republic of Sri Lanka, Megapolis and Western Development Minister Patali Champika Ranawaka said today.
He said this to journalists after an inspection tour at the Matara Weligama Udyanaya.
"Some individuals attempt to create false assumptions that changing the name of Sri Lanka will lead to a crisis in terms of racism, ethnicity and separatism," the Minister said. "My party too is demanding that the name Sri Lanka should be changed to Republic of Sri Lanka."
He said this would not lead to any problem unless those who wanted to promote racism created such problems and added that the biggest curse in Sri Lanka was nepotism.
"Nepotism was a parasite during the administration from 2005 to 2015. Some appointments were done without considering paper qualifications and administrative experience," the Minister said. "We will work for the people without limiting ourselves to one or two families but by being open to every citizen of this country." (Sheain Fernandopulle)