---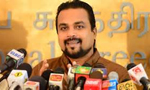 National Freedom Front (NFF) Leader MP Wimal Weerawansa today urged the Government to refrain from underestimating the national security, while claiming Defence Secretary Karunasena Hettiarachchi proved to be unsuitable for the post by the day.
Addressing a media briefing MP Weerawansa said the recovery of a suicide kit and explosives in Vallakulam, Chavakachcheri was not an ordinary incident, even though the Defence Secretary had referred to it as finding some items that were used during the war time.
"Sri Lanka would have been in a huge danger if such a Defence Secretary had been in power at the war period because he interpreted this incident not as a threat to the national security," he added.
He said there had been pressure to the Police not to reveal such discoveries even though such incidents had happened in the past for several times. He was thankful to the Police officers who revealed this despite of such a situation.
"It is easy to decide whether these explosives are from post war period by the newspaper sheets which used to wrap them. One of those parcels was labeled as 'Wellawatte'. There were also five SIM cards," he added.
He said the all the people would have to face the danger, despite of who vote for the Government and not, if they risk the national security. (Kalathma Jayawardhane)
Video by Buddhi