---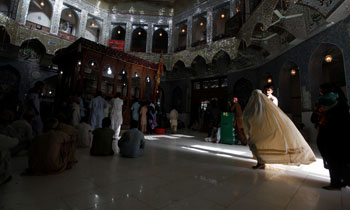 A suicide bomber attacked a crowded Sufi shrine in southern Pakistan on Thursday, killing at least 72 people and wounding dozens more in the deadliest of a wave of bombings across the South Asian nation this week.
Islamic State, the Middle East-based militant group which has a small but increasingly prominent presence in Pakistan, claimed responsibility for the attack, the group's affiliated news agency AMAQ reported.
Senior police officer Shabbir Sethar told Reuters from a local hospital that the death toll was likely to rise.
"At least 72 are dead and over 150 have been injured," Sethar said by telephone.
The attack on the famous Lal Shahbaz Qalandar shrine in the town of Sehwan Sharif comes as the Pakistani Taliban and other rival Islamist militant groups carry out their threat of a new offensive.
The violence has shattered a period of improving security, underscoring how militants still pose a threat to stability in the nuclear-armed country of 190 million people.
The high death toll at the shrine makes it one of the worst attacks in Pakistan in recent years.
In August last year, at least 74 people, mostly lawyers, were killed in a suicide bombing of a hospital in the southwestern city of Quetta.
Both a faction of the Pakistani Taliban - Jamaat-ur-Ahrar - and Islamic State claimed responsibility for that atrocity.
Jamaat also said it was responsible for a bombing in the eastern city of Lahore earlier this week that killed 13 people.
"STAND UNITED"
The bomber entered the shrine as crowds massed on Thursday, a statement from the Sindh police spokesman said.
Rescue officials said dozens of wounded people were being ferried in private cars to hospitals.
Prime Minister Nawaz Sharif quickly condemned the bombing, decrying the assault on the Sufi religious minority.
He vowed to fight Islamist militants, who target the government, judiciary and anyone who does not adhere to their strict interpretation of Sunni Islam.
"The past few days have been hard, and my heart is with the victims," Sharif said.
"But we can't let these events divide us, or scare us. We must stand united in this struggle for the Pakistani identity, and universal humanity."
An ancient mystic branch of Islam, Sufism has been practised in Pakistan for centuries.
Lal Shahbaz Qalander is Pakistan's most revered Sufi shrine, dedicated to a 13th-century "saint" whose spirit is invoked by devotees in ecstatic daily dancing and singing rituals in Sehwan Sharif.
Thursdays are an especially important day for local Sufis, meaning that the shrine was packed at the time of the blast.
Most of Pakistan's myriad radical Sunni militant groups - including the Pakistani Taliban's various factions and Islamic State loyalists - despise Sufis, Shi'ite Muslims and other religious minorities as heretics. (Reuters)