---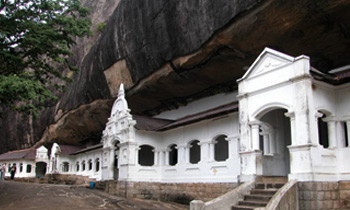 The Dambulla Cave Temple Complex for tourists until further notice, the Archeological Advisory Committee announced yesterday.
Education Minister's Media Secretary Kalpa Gunarathne said the decision had been taken when Committee gathered yesterday as an immediate conservation measure of the statues and paintings at the temple.
The Archeological Advisory Committee gathered with Education Minister Akila Viraj Kariyawasam on the Chair.
Mr. Gunarathne said the decision was taken considering the reports issued by the Professor Verner Smith from the University of Central Florida, Orlando, who was an advisor to the International Council on Monuments and Sites (ICOMOS) and United Nations Educational, Scientific and Cultural Organisation (UNESCO) and reports from the local Archeological experts.
Accordingly, the Committee had decided to take the maximum contribution from local and international experts and to follow fast conservation methods to preserve the statues and paintings at the Dambulla Cave Temple. (Chaturanga Pradeep)