---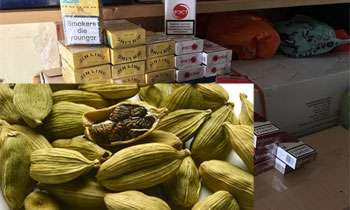 Two local traders who attempted to smuggle in a stock of illegal cigarettes and cardamom worth over Rs.1 million was intercepted by the Customs officials at the Bandaranaike International Airport this morning.
The two Sri Lankans who were returning from Dubai after a short visit had reportedly arrived at the country on FlyDubai flight FZ 547 around 6.30a.m.
Customs Spokesman Deputy Director Sunil Jayaratne told the Daily Mirror, that the men were stopped and searched on suspicion at the arrival lounge and recovered the contraband being concealed in their baggage.
The sleuths recovered 112 cartons and several more single packets of Dubai brand of 'Gold Leaf' containing 28,160 sticks of cigarettes, of which, the sale and importation to Sri Lanka was strictly prohibited.
They also found 30 kilos of cardamom in the baggage which had been brought along without an Import License.
MrJayaratne said a special license was required to obtain from the Department of Agriculture to import a speciality crop such as cardamom to Sri Lanka as it was widely grown here.
"Even the license to import cardamom is issued on special grounds, such as research material or to meet a severe shortage within the local industry, which is highly unlikely," DDC Jayaratne said.
However, the Customs suspected that the passengers had attempted to smuggle in the cardamom as its local price was fairly high as a speciality spice. "In some countries like Turkey and India the cost of cardamom is relatively low and the market prices too are very low," he said.
The seized goods had been valued at Rs.1, 020, 000 and the case had been detected by Assistant Superintendent of Customs G. B. C. Bandara.
Deputy Director of Customs Darshana Silva conducted the inquiry and released the two traders aged 33 and 41 respectively from Kotugoda and Kurunegala on a penalty of Rs.150, 000.
The contraband were forfeited by the Customs. (Kurulu Koojana Kariyakarawana)