---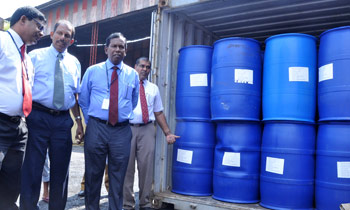 A large stock of 32,000 Lt. of Glyphosate which was banned to import to Sri Lanka was seized by the Customs Preventive Unit today, Customs Media Spokesman Dharmasena Kahandawa said.
During the investigations, the Customs officers had found 160 drums containing 200 Lt. Glyphosate. The stock had been imported in two containers from China by a vessel on March 15 by an importer who was identified as a businessman from Colombo 1, Mr. Kahandawa said.
The Glyphosate consignment was declared to the Customs as 'Non Ionic' (Organic Silicon) in an attempt to mislead the Customs. "The Customs Preventive officers halted the two containers due to the suspicious name of 'Non Ionic'. After the probe, the Customs officers found that there was no Non Ionic in the container and that the consignment contains undeclared items," Mr. Dharmasena said.
Later several samples of the consignment were sent to the office of the Registrar of Pesticides Department of Agriculture in Gannoruwa, Peradeniya, which later confirmed the consignment was pure Glyphosate.
The consignee was released on a Customs bond and further action would be taken against him, according to Mr. Dhramasena.
While speaking to media at the Customs Grey Line 2 yard in Grandpass, Customs Director General Chulananda Perera said stern actions would be taken against such importers of banned pesticides to the country. Further investigations were carried out by the Chief Assistant Preventive Officer G. M. B. Gajanayaka, Assistant Preventive Officers J. G. A. Sanjeewa, S. V. Kamburugamuwa, A. V. P. Nalaka, W. G. C. S. Amarasinghe and D. L. A. L. A. Dassanayake under instructions from Customs Preventive Director R. A. J. Buddhadasa and Chief Preventive Officer V. Minuwanpitiya. Meanwhile, the investigation team led by Customs Director General Chulananda Perera.
Issuing an extraordinary gazette on October 23, 2015, the Finance Ministry said imports and use of Glyphosate were totally banned under the Import and Export (Control) Act as it was the major contributor to the Chronic Kidney Disease (CKD) which is widespread in the country.
The Register of Pesticides had cancelled every licence that was issued for the pesticides containing 'Glyphosate' as active ingredients, the DG of Customs said. (Chaturanga Pradeep)