---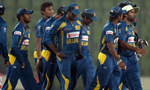 Sri Lanka's National cricketers and their Board are squaring off for a stand-off over a fresh contract, with the players firmly rejecting to sign the new performance-based agreements on offer.
The new contract sees a substantial cut in players' annual contract fees although they have been offered significant win bonuses and individual performance bonuses.
But the players have registered their firm disapproval, demanding a ten percent increase in their contract fees instead.
The dispute comes just days ahead of the team's departure to Zimbabwe for a two-match Test series followed by a Tri-Series also involving the West Indies.
Skipper Angelo Mathews, his Deputy Dinesh Chandimal and veteran spinner Rangana Herath who are in the top category failed to reach a compromise when they met the Board's CEO Ashley de Silva yesterday. They will meet board officials again this morning in the hope of avoiding a full blown crisis.
SLC's decision to introduce pay-cuts was largely motivated by finding the Board had disbursed Rs. 684.85 million - approximately around 33 percent of Board's income - among the 16 players in the National Squad during the previous contract year.
A player in the top category received a contract fee of US $165,000; in category 2, US $100,000; US $70,000 in category 3; and US $40,000 in category 4 during the 2015-2016 contract period which ended in February in addition to match fees, 10 percent share from the ICC and ACC events and a percentage from team sponsorship.
But SLC's new administrators decided to reduce this substantially where a player in the top category will now receive a reduced annual contract fee of US$ 125,000 as opposed to the US$ 165,000 received last year.
A player in category 2 will receive US $ 80,000 while the contract fee for category 3 has been set at US $ 60,000. A category 4 player will receive an annual fee of US $ 40,000 and US $ 20,000 per player in category 5.
Accordingly, the Test match fee has been brought down to US $ 5000 from US $ 7500.This amount will be increased to US $ 10,000, if they win.
Also, every century scored or five or more wickets taken in a Test match will earn a player an additional US $ 5000.
The ODI and T20 match fees remain the same at US $ 3000 and US $ 2000 respectively. However, in order to create competitiveness and encourage individual performance, the Board is offering US $ 5000 for every century scored in a limited-over match and a five-wicket haul taken.
In T20's, this has been increased by further US $ 2500, meaning a century or a five wicket-haul will fetch them US $ 7500.
In 2014 players and Board engaged in a major contract stand-off after SLC refused a share of ICC and ACC events. (Champika Fernando)