---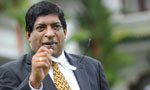 The Court of Appeal today re-issued notices to Finance Minister Ravi Karunanayake and 13 others to appear in Court on November 7 in regard to a writ petition filed by Ven. Agulugalle Jinananda Thera against the decision of the Finance Ministry to exempt a beer manufacturer in Biyagama from paying the customs levy normally charged.
The respondents were not present in Court today despite notices being issued on September 27.
The petitioners stated that a decision had been taken by the Finance Ministry to give a special exemption to a company known as Lion Brewery Plc for a period of four months, thereby causing a Rs. 6 billion financial loss to the State.
Ven. Jinanada Thera and five others cited the Finance Minister, Secretary of the Finance Ministry, Director General of Customs and eleven others as respondents. (Shehan Chamika Silva)