---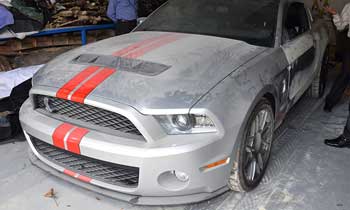 Kaduwela Magistrate and Additional District Judge Prasanna Alvis ordered that the Financial Crimes Investigations Division (FCID) would be given three weeks time to hand over the 2010 Ford Mustang Shelby GT500 luxury vehicle that belonged to MP Namal Rajapaksa initially and later sold to someone else.
The vehicle had allegedly been bought by another party and the judge ordered to hand it over to the owners.
The Magistrate ordered so when the case was taken up for hearing today.
This vehicle had been found in a garage in Homagama nearly a year ago and it had been taken into custody by the FCID officers.
This Duty-Free vehicle had been obtained by MP Namal Rajapaksa and used for five years and had been sold at Rs.8.5 million in the Kaduwela area.
Later, it had been kept in a garage.
When the case was heard, Attorney- at- Law Premanath Dolawatte who appeared for the accused said that the vehicle in question was rusting in the Financial Crimes Investigations Division and requested it to be given to her.
Accordingly the judge has ordered to release it.
However so far, MP Namal Rajapaksa's name has not been mentioned as a suspect and the Attorney said that if necessary, he could be presented in the Court. (Irangi Edirisinghe and Gunawathy Illankakoon)