---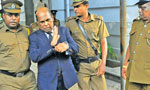 Over the inquiry into the murder of ruggerite Wasim Thajudeen, Colombo Additional Magistrate Nishantha Peiris today ordered prosecution to obtain a comprehensive report from Director of Colombo National Hospital and Prison Superintendent over the admission of the second suspect ex-SDIG, Anura Senanayake into the paying ward of the CNH, without providing treatment to him from the Prison Hospital.
The Magistrate gave the direction observing the request made by the aggrieved party counsel, Misba Sathar.
Observing that a suspect in remand custody has equal right to get treatments for his medical condition, the Magistrate said the suspect could be only allowed to admit to a National Hospital due to insufficient treatments for his condition from the Prisons Hospital under the direction of the Medical Officer at the Prison Hospital.
The Defence Counsel, who appeared for the second suspect requested court to allow his client to attend his daughter's convocation under the supervision of Prison Authority.
Objecting to the request, Senior State Counsel, who appeared for the Attorney General said the suspect had no special privileges to ask such requests from court and that he was an accused in a murder case for fabricating false evidence.
The Magistrate rejecting the defence request ascertained that attending to a convacation cannot be regarded as an exceptional circumsatnce and that no such suspect in remand custody is allowed to request such permission from court based on the legal concept of "no one is guilty until proven", since the suspect has allegtions over a murder inquiry.
Former SDIG Anura Senanyake and former Narahenpita Crimes OIC Sumith Perera were ordered to be further remanded till August 24 by the Colombo Additional Magistrate Nishantha Peiris today over the inquiry conducted into the killing of ruggerite Wasim Thajudeen.
The former SDIG and the former Crimes OIC also have charges of causing disappearance of evidence, fabricating false evidence, touching it to screen the offender and conspiring under Clauses of 189,198 and 296 of the Penal Code.
The Defence Counsel also informed Court that the two suspects had already filed revision bail applications in Colombo High Court seeking bail over the magisterial inquiry. (Shehan Chamika Silva)
Video by Courts Prasanna