---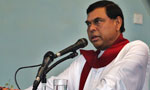 While claiming the Governments' priorities have changed after coming into power, former minister Basil Rajapaksa said the country which was once a working land had now become a graveyard.
Addressing the All-Island Samurdhi Development Assistant Officers' Council, Mr. Rajapaksa said the Governments' priority was to amend the Constitution by abolishing Executive Presidency and to introduce a new electoral system.
"Now, the Government has thrown away their promise of amending the Constitution and they are going to revise the national anthem, national flag and the States' religion. The Government is also in a political which-hunt," he added.
He said the rules and regulations that have been implemented by Geneva were harmful to the sovereignty of the country.
He said the Government has curtailed the fertilizer subsidy and the farmers could not sell off their harvest.
"Students have been deprived to obtain their school uniforms. The current situation in the country under the Government is quite disturbing not only for the public but for us too," he added. (Kalathma Jayawardhane)