---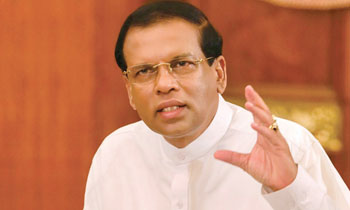 President Maithripala Sirisena said the fight against corruption was the self-defence of the country's march towards prosperity and the country must be fully prepared and dedicated to put an end to corruption, theft and waste once and for all.
He added that each and every politician in Sri Lanka had a responsibility to carry out his or her service to society in an exemplary manner sans mischief, corruption and theft, because it was the duty of the hour of all politicians.
In his address to the nation at the 70th Independence Day celebrations held at the Galle Face Green today, President Sirisena went onto say that a broad national movement against corruption was essential as a safeguard to achieve Sri Lanka's objectives of economic development and social, cultural and spiritual happiness.
"Bribery, corruption, fraud, mismanagement and malpractices were the most adverse impact on economic independence of the country, hence all the politicians should fulfill their duties in an exemplary manner," President Sirisena stressed.
Emphasizing the importance of identifying development priorities, President Sirisena pointed out that there were adverse repercussions due to implementation of personal agendas in development strategies.
"Therefore, the need of the hour is to maintain financial discipline. Politicians as well as Public Servants including every Head of Departments fulfilling the responsibilities towards the people must act with utmost fiscal discipline," he said.
"There was a requirement of a national movement against corruption in order to establish a clean political culture and such a collective movement must be mobilized with the participation of the collective of intellectuals and professionals of the country," he said.
"There is no doubt that the desire of each and every Sri Lankan is to achieve a speedier progress in every aspect of life. Far-reaching reforms in the Public Sector are required to realise that objective with the assistance and cooperation of the Private Sector.
"The true development cannot be restricted to economic progress alone. Achieving a true national development means the growth and advancement in living, social and cultural standards while maintaining a healthy balance in enjoying the environment resources and at the same time protecting it," he said.
President Sirisena said that the experiences gained during the past 70 years must be used to face the future challenges.
"One of the main challenges is poverty and successive Governments in the past implemented different programmes to free the people from poverty and they have made positive contributions.
"With those experiences, we have launched programmes to achieve that end and there is a need to make them more intelligent and efficient and I am sure with such measures we can win this challenge," he said.
The President paid his tribute to the members of security forces who made immense sacrifices to defeat terror unleashed by the Liberation Tigers of Tamil Eelam (LTTE).
"When the LTTE attempted to break our country, our Army, Navy, Air Force, Police and Civil Defence Services sacrificed their lives and limbs and many became handicapped, even denied their children and families a proper family life, suffering many painful experiences on behalf of future of the nation, freedom of the nation and the territorial integrity," he said.
President Sirisena pointed out the need for communal harmony among the Sinhala, Tamil, Muslim and Burgher communities to build the nation and stressed the need to protect the rights of the people to live as equal citizens. He said fullest commitment and support of every section was essential to achieve true reconciliation.
President Sirisena noted the importance of reshaping of administrative, legislative and executive bodies such as Local Government bodies, Parliament and the office of Executive Presidency in order to provide the opportunity for the people to get maximum possible benefit from those establishments. Financial crimes and multifaceted corruption engulfed in politics have prevented people enjoying full dividends of democracy and freedom, President Sirisena emphasized.
"Freedom must not be restricted only to enjoy democratic rights. People must also be provided with economic freedom, freedom from poverty and freedom from discrimination. New technology is an integral part of development. To apply technology to achieve economic progress we will have to rely on foreign countries. But in doing so we must never ever forget the nation's self respect, dignity, our heritage and culture. While remaining committed to realise an accelerated development we must also be determined to preserve and safeguard our culture, civilization and traditional values," he said.
"All Sri Lankans must act bravely and diligently to realise their respective aspirations of life, while contributing with dedication and patriotism towards national progress. It is extremely imperative to maintain inter communal interfaith harmony, understanding and mutual respect.
"Communal mistrust and discrimination breed hate and vengeance among communities which is the biggest motivation for terrorism. That is why this Government always promotes and protects peace and friendship among Sinhalese, Tamils, Muslims, Malays and Burghers.
"Then only we can build patriotism and exclusiveness among all Sri Lankans," President Sirisena stressed.
President Sirisena paid tribute to three armed forces, the Police and Civil Defence Force for their numerous sacrifices made to eradicate LTTE terrorism from the soil of motherland and restoring nation's independence and territorial integrity.
The special invitees to the 70th Independence Celebrations of Sri Lanka, Prince Edward – Earl of Wessex and the youngest son of Queen Elizabeth I and his wife Countess of Wessex, Sophie Rhys-Jones were conspicuous in their presence at the ceremony. A noticeable absentee of this year was the TNA. The members of the joint opposition did not participate in the ceremony as usual.
After the Address to the Nation by President Sirisena, a Guard of Honour, 21 Gun Salute, an armed forces, police and school cadet parade and a cultural display were followed. The ceremony was made more colourful and exciting with a parachute jumping, an air show by the Sri Lanka Air Force and naval craft display in the sea by Sri Lanka Navy.
The ceremony was concluded with the singing of the national anthem in Tamil. (Sandun A Jayasekera)