---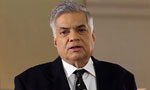 Addressing a media briefing at the Temple Trees today, Prime Minister Ranil Wickremesinghe warned that prevalent inclement weather conditions would prolong for some time, and said cooperation was the need of the hour.
He urged all people and forces to extend a helping hand to save the lives of those affected by floods.
"Our priority is to save the lives of those who have been affected by the prevalent weather conditions.
We cannot expect the inclement weather to return to normalcy as more rain clouds were expected to arrive from the Maldives. More landslides like the ones that occurred in Aranayake could take place in other areas as well, and those who have been advised to leave their homes, please do so," he said.
The premier stated that security forces and the police would be deployed to all flood affected areas on the instructions of protecting the belongings of the displaced and the ones who were evacuated.
"Some people have been reluctant to leave their premises when they have been asked to, assuming that their valuables would be robbed. But, the police and security forces have been deployed to prevent such happenings. A survey done on the situation in Colombo and Gampaha areas stated that the floods were unusual. I have personally witnessed floods in the Gampaha area since 1975, but this time, the region is inundated like never before," he lamented.
Responding to a question raised by a journalist as to whether an emergency situation would be declared, the Prime Minister said such a move was not needed as only certain parts of the country were affected.
Meanwhile, Disaster Management Minister Anura Priyadarshana Yapa who was also present at the briefing said a special insurance scheme had been introduced to assist the flood affected people. He said a colossal sum of Rs. 300 million had been allocated for it, and added that the funds would be spent without considering any circular.
While further pointing out that some 414, 627 people belonging to 98, 076 families have been affected thus far, Minister Yapa said the floods have claimed 43 lives, and 16 persons had gone missing.
"As many as 286 houses have been destroyed while 3, 057 were partly damaged. Meanwhile, some 61, 381 families have been put up in 594 camps," he said. (Yohan Perera)
Video by Chamilka