---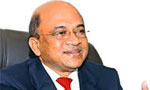 Auditor General Gamini Wijesinghe has been summoned to Parliament today to testify on the alleged coal purchasing deal which is alleged to have caused the government to incur a loss of Rs.1.8 billion, informed sources said.
MP Nalin Bandara Jayamaha a member of the Parliament Sectoral Oversight Committee (SOC) on Power and Energy told Daily Mirror that the Committee had summoned Mr. Wijesinghe today to testify on the matter.
He said officials of the Ministry of Power and Energy, Ceylon Electricity Board (CEB) and the coal supplying companies have been summon by the oversight committee to determine as to what had really happened.
Mr Jayamaha had said the Auditor General had got it wrong when he said the Government had lost Rs.1.8 billion. He said the price paid for a metric ton of coal is only US$ 51 and not US$58 as mentioned in the auditor general's report. He said US$58 was an index price which was decided at the time the tenders were called for the purchase of coal in 2015.
Mr. Jayamaha said the parties usually agree on an index price at the time the tenders were called and later revise the price depending on the global price of coal on the day an order is made and that the price of coal was $51 on the day the order was placed.
Meanwhile, the special committee appointed by the Government is also conducting investigations. (Yohan Perera)