---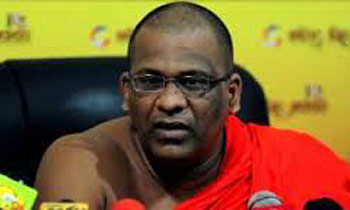 Ven. Galabodaatte Gnanasara Thera was not present in the Court of Appeal when a Bench comprising Justices L.T.B. Dehideniya and S. Devika De L. Tennakoon took up for hearing the case in which he is charged with contempt of court.
A senior lawyer who appeared on his behalf said the monk was not in court because he feared for his life.
President's Counsel Thirantha Walalaliyadde PC with Shashika Mithuna Arachchi appearing for Ven. Gnanasara Thera told Court that there had been many instances where people appearing in court had been shot and that there was no guarantee that this would not happen to him.
"He must be present in Court. It is a separate case. There is no excuse," Justice Dehideniya said
Deputy Solicitor General Rohantha Abeysuriya said the respondent was not present in Court even on the previous calling date and that his absence was covered by a medical certificate which said he was suffering from hypertension. The DSG said it was a different story this time and requested court to issue warrant for his arrest.
The inquiry was fixed for July 18, 19 and 20. (S.S. Selvanayagam)