---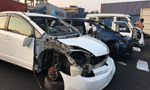 A shipping container with four disassembled vehicles and several motor spare parts with an estimated value of Rs.20million imported under the guise of vehicle spare parts, had been seized this evening, Customs Director Kapila Ruwan Pathirana said.
"A forty-foot container packed with four vehicles and spare parts worth nearly Rs. 20million had been seized by the Customs Central Investigation Unit, while being attempted to smuggle into the country," he said.
The container was declared to the Customs as "auto parts" and Rs. 600,000 had been paid as Customs Duty, he said.
However, during Customs investigations a Toyota Prius, Vitz, ToyoAce crew cab and a Suzuki Every van were found hidden among the spare parts, Mr. Pathirana said.
The container was registered to a businessman in Marawila and it was directly imported from Japan.
The suspect had not been arrested yet, but Customs revealed information as the importer of the container had hospitalized himself to prevent from being arrested.
Mr. Pathirana said if the container was released there would have been a loss of Rs. 15 million in Government revenue.
The raid was conducted under the direction of Customs Director General Chulananda Perera and Customs Superintendents Srilal de Alwis.
Investigations were carried out by the Assistant Customs Superintendents W.M.R.P. Wijayakoon, K.C. Sahan Lalithya, Ms. Gayathri Senarathne, Ms. Awanthi Subasighe and Ms. Wasana Rubasinghe. (Chaturanga Pradeep)