---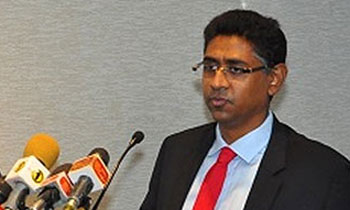 While appealing to the media not to politicise the statement made by President Maithripala Sirisena on the Central Bank bond scam, Minister Faizer Musthapha yesterday said the Bond Commission had clearly said that there was no involvement whatsoever by Prime Minister Ranil Wickremesinghe in the bond controversy.
He asked journalists at the SLFP weekly news briefing held at the party office whether a school principal would be removed when a student did something wrong simply because the principal admitted the boy to the school?
Responding to a journalist at the news briefing, Minister Musthapha said the Commission has reported that Prime Minister's responsibility in the appointment of Arjuna Mahendren as the Governor to the Central Bank was proper.
Nothing has been mentioned on any lapse on the part of Mr. Wickremesinghe in the Bond Report and we all must accept it.
"It is true that there has been a fraud involving the bond issue and the perpetrators have been found. The government will take legal action as mentioned by President Sirisena in his statement on Wednesday (3) and the illegally amassed lucre will be recovered. The statement made by President Sirisena is a unique statement made by a unique leader. The bond commission was appointed by President Sirisena not for a witch hunt aimed at any individual or a political party but to know the absolute truth behind the bond scam," he said. (Sandun A Jayasekera)