---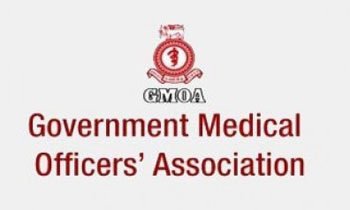 The Government Medical Officers' Association (GMOA) today claimed that Prof. Colvin Gunaratne's appointment as the new Chairman of the Sri Lanka Medical Council (SLMC) was one that had been done to circumvent the SLMC's objections on SAITM.
While expressing its displeasure over the recent appointment, the GMOA said it could be viewed as Health Minister Senaratne playing his trump card in order to silence the SLMC and safeguard the SAITM institute, a duty that he had taken upon himself to accomplish by hook or by crook.
In a letter addressed to the President and the Prime Minister, the GMOA had expressed its displeasure over the Health Minister's actions and said they were dismayed to hear of Professor Gunaratne's appointment as the new Chairman of the SLMC.
Addressing a press conference in Colombo, GMOA Secretary Dr. Haritha Aluthge said it was an arbitrary decision of Health Minister Rajitha Senaratne to appoint Prof. Gunaratne to the post.
He said during an earlier occasion when Health Minister submitted Professor Gunaratne's name for the post it was rejected by both President Maithripala Sirisena and the Prime Minister after considering the strong objections posed by the GMOA.
Dr. Aluthge said Professor Gunaratne was well known for his pro-SAITM bias and his involvement in pharmaceutical industry had convinced a majority of those in the SLMC and GMOA to reject his candidacy. His unwillingness to confirm or deny these accusations had also served as proof of his culpability, Dr. Aluthge said.
The GMOA had emphasized that Prof. Gunaratne's appointment will severely affect the independence of the SLMC and will also influence the Appeal Court hearing into the SAITM issue.
Therefore, the GMOA had asked the government to reconsider its decision to appoint Prof. Gunaratne, which, according to them would do irreparable harm to the country, its citizens and the healthcare sector as a whole. (Thilanka Kanakarathna)
Video by Sanjeewa