---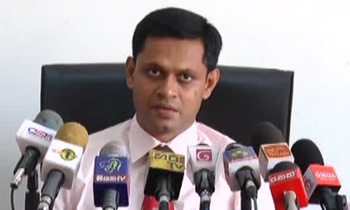 The Government Medical Officers' Association (GMOA) today warned it would resort to a 24-hour trade union action on a day between May 3 and 5 if its demands regarding the South Asian Institute of Technology and Medicine (SAITM) were not granted.
GMOA Assistant Secretary Nalinda Herath told a media briefing that they arrived at this decision on the unanimous approval of its central committee.
"Several trade unions including those of teachers, the transport sector and the railways have joined hands with us in this battle. Many services in the country will come to a standstill on that day and will directly affect the country as well. We do not intend to inconvenience the people by our TU action," he said.
He said they would launch a series of trade union action from May 9 if the government did not provide them a reasonable answer to this matter.
He said they were not prepared to have any discussion with President Maithripala Sirisena or any other party on this matter because the discussions held earlier had resulted in failure.
"SAITM should be nationalized. That is the only solution to this issue. Many of the doctors, university students and trade unions are not happy with the decisions taken by the government on this matter," he said. (Kalathma Jayawardhane)
Video by RM