---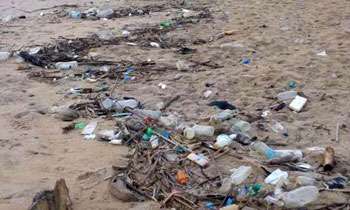 The Maritime Environment Protection Authority (MEPA) today said that it would request the Ministry of Environment to discuss with the Indian High Commission at a diplomatic level urging India to prevent clinical waste from being released towards Sri Lanka.
MEPA CEO Dr Terney Pradeep Kumara said that they had started collecting and sorting the waste that had been washed ashore on the coastal areas off Puttalam.
He said the clinical waste would incinerate them in chemical waste incinerators.
"We are going request the Indian High Commission through the Ministry of Mahaweli Development and Environment to take action to prevent clinical waste of India washing ashore on Sri Lankan beaches," he said.
On Tuesday the MEPA confirmed the clinical waste which had washed ashore was from India.
The India Today News website earlier reported the waste included a large stock of expired drugs, manufactured in India.
Similar clinical waste had previously washed ashore in this manner in Vadamarachchi, Thondaimanaru and other parts of the Jaffna District on November 17, 2017.
Speaking to the Daily Mirror MEPA Puttalam District officer Ms Priyanga Samarasekera said they had started cleaning the beach in Udappuwa in the North Western coastal belt to Cinna Padu in Puttalam with the support of the team of eight personnel.
"We are going to conduct a examine after collecting the clinical waste," she said
"But from the collected clinical waste so far, ninety per cent of them are from Sri Lanka. We could not collect at least five kilograms of Indian chemical waste from the beach.
"We did not found any syringes, needles or anything related to India," she said.
"Most of the waste was found was cosmetic bottles, food wrappers, multivitamin bottles and plastic bottles manufactured in Sri Lanka. The bottles that are suspected to be from India were found without labels," she said.
The hazardous waste would be sent to the Holcim Cement for incineration. (Chaturanga Samarawickrama)
Video by Jude Samantha