---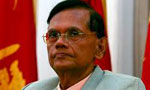 The joint opposition yesterday urged the Central Bank (CB) to reveal the results of its probe launched in 2009 against controversial businessman Raj Rajaratnam, the founder of Galleon Group and who was found guilty of insider trading charges.
Addressing the weekly news conference of the joint opposition's Economic Research Centre, former external affairs minister G.L. Peiris said reports are spreading linking Dr. Coomaraswamy with Galleon Group and therefore it is vital to clear the air over Rajaratnam and as well as the Galleon Group.
"The CB launched a probe in 2009 over the alleged funds received by the Tamils Rehabilitation Organisation (TRO) from Rajaratnam and said he had not been cleared from the charges against him. The Wall Street Journal also said he is not innocent. It is time for the CB to reveal whether its probe on Rajaratnam is over and the results of the probe. If Dr. Coomaraswamy had served in the New York-based hedge fund management firm, he should clarify what was his responsibilities there putting an end to allegations," he said.
"The Bank Of Ceylon (BOC) was also involved in the first Bond Sale scam as it had released funds to Perpetual Treasuries to purchase CB Bonds. This means higher ranking officials other than the governor had involved in this. We saw high confidentiality was maintained when giving details of the incident to the Auditor General and also to the COPE. Confidentiality should not be used to cover up misdeeds," Prof. Peiris said.
Addressing the news briefing, UPFA MP Bandula Gunawardane said a staggering loss of at least Rs. 150 billion had been incurred by the government in the two Bond Sale scams and said the loss should be recovered from those who are responsible. While lauding the appointment of the new governor, MP Gunawardane said the JO hoped Dr. Coomaraswamy will conduct his duties in an impartial manner.
"We hope he will succeed in rebuilding the lost credibility of his institute. We also request him not to make arbitrary employee transfers like his predecessor, but to take measures to increase foreign reserves, to prevent investors from pulling their funds from Sri Lanka and ultimately to improve the country's financial status," he said. (Lahiru Pothmulla)
Video by Sanjeewa