---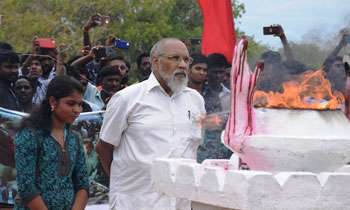 Some 5,000 people attended the ceremony of remembrance held at Wellamulliwaikkal on Friday to commemorate those killed in the armed conflict.
It was held at the monument erected at Wellamulliwaikkal-East in honour of the civilians killed in the war.
The ceremony began with the lighting of a lamp by a girl who lost her parents and three brothers during the war and Northern Province Chief Minister C.V. Wigneswaran.
Although several politicians including members of the Tamil National Alliance (TNA) were invited to the commemoration ceremony held last year, none of them expect for the chief minister was invited to this year's ceremony organised by the Northern Provincial Council.
According to reports, the Jaffna University students' federation which had pledged its support to the commemoration ceremony had opposed the participation of politicians.
The ceremony began by observing three-minute silence and the lighting of oil lamps to invoke blessings on the deceased.
The Chief Minister addressed those who were gathered there. (Romesh Madushanka)
Video by Wanni Romesh Madushanka