---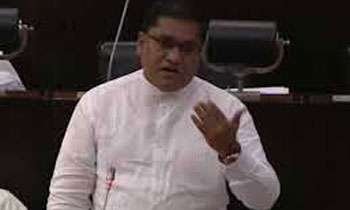 Not only an impeachment brought against President Maithripala Sirisena but his civic rights also could be stripped, as he had violated the Constitution on several occasions, JVP MP Vijitha Herath said today.
He told Parliament that the President had violated the Constitution by removing the Prime Minister, appointing a new Prime Minister and dissolving Parliament and added that he had acted against democratic principles by proroguing Parliament.
He said the President wanted the first clause of the No-Confidence Motion brought against the Government and the Prime Minister removed as it could hold him guilty of violating the Constitution.
"The court has accepted the No-Confidence Motion passed in Parliament whereas the President refused to accept it. The President cannot defy Court decisions. He has already found guilty of violating the Constitution," he said.
He said President Sirisena had got Mahinda Rajapaksa faction to bring in an NCM against former Prime Minister Ranil Wickremesinghe and now he was using UNP to bring in an NCM against Mahinda Rajapaksa.
"Rajapaksa should at least now realize this situation," he said.
MP Herath said Mahinda Rajapaksa faction was boycotting Parliament to evade their true numbers in Parliament being revealed by making false allegations against the Speaker.
He said the President and the Rajapaksa faction should now admit the defeat and allow the majority to form a Government without further plunging the country into chaos.
He said the situation would lead to the financial crisis from January as a budget could not be passed without a Government.
"There will be issues to pay salaries to Public Sector employees. The Central Bank is unable to obtain even a loan without the approval of the Finance Minister.
"The health sector will also face a crisis as even essential medicines cannot be purchased without the approval of the Health Minister," he said.
Rejecting claims that President can approve funds for three months, he said it was not so and said it was possible only if Parliament was dissolved when a budget was not passed.(Ajith Siriwardana and Yohan Perera)