---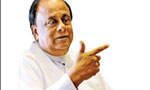 The Frontline Socialist Party Leader Kumar Gunaratnam will be given Sri Lanka citizenship if he applied for it and give up Australian citizenship, Minister of Wayamba Development Cultural Affairs and Immigration and Emigration S. B. Navinna told Parliament today.
Minister Navinna, who was responding to a question raised by Joint Opposition group leader Dinesh Gunawardane, said Mr. Gunaratnam can be given the Sri Lankan citizenship before his prison sentence ends on December 7 this year.
He said Mr. Gunaratnam was expected to submit an application for citizenship later in the day.
He also accepted that some members of the Frontline Socialist Party have met the Prime Minister and several other ministers recently and made a request on behalf of Mr. Gunaratnam.
Mr. Gunawardane said Mr. Gunaratnam should be given Sri Lankan citizenship as he was born in Sri Lanka and his parents are still living in this country. He also requested the government not to deport him. (Yohan Perera)