---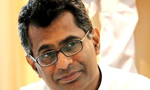 The joint opposition yesterday requested President Maithripala Sirisena and Speaker Karu Jayasuriya to ensure that Megapolis and Western Region Development Minister Patali Champika Ranawaka does not participate in the meeting of the Constitutional Council (CC) scheduled for today to discuss the appointment of the next Inspector General of Police (IGP), it is learnt.
Mr. Ranawaka is the member nominated by the President to the CC, which is chaired by the Speaker by virtue of his office.
The joint opposition, in a letter signed by its parliamentary group leader Dinesh Gunawardane and a few other MPs such Bandula Gunawardane and Vasudeva Nanayakkara, said that was a police investigation concerning Mr. Ranawaka's alleged involvement in a road accident and that he should, therefore, not be a part of a body that would choose the next police head.
The letter said there were also court proceedings in this regard.
Video by S.M.S.Rathnayeka