---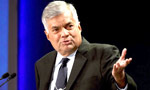 A Chinese Merchant Group will be given 50 square kilometres of land in the South for industrialization, Prime Minister Ranil Wickremesinghe said today at the 15th Asia Pacific Conference of German Business held at the Hong Kong Exhibition and Convention Centre.
"This is exactly what Japan did in Thailand and in Malaysia" he said.
The Prime Minister expressed similar sentiments at the working breakfast with German Vice Chancellor Sigmar Gabriel at the Grand Hyatt Hotel.
"The China-Japan-Korea Trade agreement and the economic agreement of ASEAN countries are on the cards while Australia and New Zealand are also integrating more with Asia," he said and added that Indian Prime Minister Narendra Modi had pioneered trade agreements with countries in the Bay of Bengal region.
Premier Wickremesinghe said these developments were taking place amid unrest in the Korean Peninsula and in the South China Sea.
"What is important for Sri Lanka are Asian trade agreements and trade agreements with other parts of the world," he said and added that the Sri Lankan Government was focusing on the manufacturing sector as well.
"Earlier we focused on infrastructure development but now we have integrated the manufacturing sector together with infrastructure development," the Prime Minister said. "We have embarked on developing WiFi zones across the country. We need of engineers especially in the IT sector and IT training institutions as well," the Prime Minister said. "China is coming in with its one gate one way system while Japan too is coming in with trade agreements. China and Japan have the funds." He said each country would have to decide how they were going to deal with the development in Asia.
German Vice Chancellor Sigmar Gabriel stressed the need for finding ways and means to fit Europe into the changes in the global trade. "The Asia Pacific Region will drive the global trade in the future," he said stressed the need for Europe remove trade obstacles. (Yohan Perera in Hong Kong)