---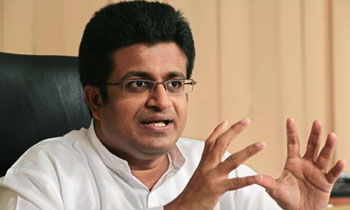 Pivithuru Hela Urumaya (PHU) yesterday claimed that the Chinese Company which was handling the Hambantota Port Project did not have the authority to hoist the Chinese flag within Sri Lankan territory.
It was reported that the Chinese flag and the Sri Lankan flag were hoisted in the Hambantota Port premises on January 1 with both flags at the same level though it had been the custom to hoist the Sri Lankan flag at a higher level than the other flags.
PHU General Secretary and MP Udaya Gammanpila told a news conference that only the Chinese Embassy had the authority to hoist the Chinese flag in Sri Lanka and at events at which the Chinese leader was participating.
"Hoisting a flag belonging to a certain country at a certain place depicts its authority over that land. The Chinese Company has no right to hoist the Chinese flag. They are also governed by the Sri Lankan law and they should abide by it," he said.
The MP said the flag-hoisting incident raised doubts as to whether the Hambantota Port belonged to China and it was questionable whether there were more agreements which were not revealed with this regard. (Kalathma Jayawardhane)
Video by Susantha