---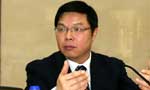 Chinese Ambassador to Sri Lanka Yi Xianliang today visited Jaffna and pledged to take forward bilateral ties by assisting in the development of former war zone in the Tamil-dominated north, the Business Standard reported.
The Ambassador met with the northern governor Reginald Cooray and said that China stands ready to offer assistance to Sri Lanka and the Northern Province within Chinas assistance programme in the island.
He told the Governor that China and Sri Lanka enjoy strong historical ties and that the relationship must be taken forward.
The Ambassador expressed Chinese interest to offer assistance to boost the education of children in the north and said China will consider offering scholarships to the northern children.