---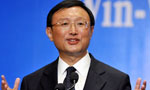 Chinese State Councillor Yang Jiechi was reported to have told former president Mahinda Rajapaksa and his entourage that China was opposed to any 'external intervention' in the internal affairs of Sri Lanka and the use of human rights as a political tool.
Former external affairs minister G.L. Peiris, who was one of those who accompanied Mr. Rajapaksa on a visit to China last week, said Mr. Jiechi was the principal officer of Chinese President Xi Jinping on foreign affairs.
Mr. Jiechi has said China believed that Sri Lanka was capable of handling its own affairs.
Members of Mr. Rajapaksa's delegation said they were not opposed to economic development projects beneficial to Sri Lankans and warned that the allocation of 15,000 acres of land for a Chinese investment project would be resisted by the people.
They said it would have been ideal to stick to the original proposal of setting aside 750 acres of land for the project as initially envisaged and if necessary to be increased gradually.
Mr. Jiechi, who is a former foreign affairs minister, is in terms of protocol ranks above the Chinese foreign affairs minister. (Kelum Bandara)